Lipton is a brand of tea that worked together with the PaRappa franchise to promote the sales of Lipton Ice Tea beverages. If one bought a 500ml bottle of LIMONE or Cool Peche tea[1] it came with a wind-up toy of one of the characters. One also had chance to win a phone strap. It was Japan exclusive.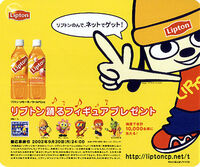 Rodney Alan Greenblat provided the artwork of this project[2] by altering the characters holding Lipton bottles. Parappa specifically wore a Lipton hat and had his frog logo replaced with the Lipton logo. Sunny Funny conceptually held two bottles of Lipton but to be in sync with PaRappa holding a lemon, Sunny was given a peach to hold. The lemon and peach are the available flavors of iced tea. Lammy holds her bottle like a guitar. The 3D rendered animation of the toys made to show their motion[3] was provided as well, making it a seemingly larger project. As Rammy only featured as a phone strap, no additional artwork was made of her.
Merchandise
Edit
Wind-Up Toy
The wind up gear are found on the back of the characters' heads, which is out of sight in the box packaging.[4]
Phone Straps
References
Edit