Welcome to the PaRappa wiki. Being a famed appreciated franchise, this wiki has turned out to become a bit of a mess due to lack of vandalism patrol and dedication. There is hardly any content here and otherwise is faulty. That said, your new MC got this in the bag.


Check the BIG changes! blog for updates on what's new around this joint!
Featured Article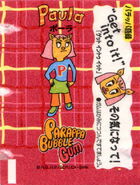 Meiji affiliated with the PaRappa franchise in 2001 to promote sales by selling bubblegum with collectable wrappers.
Featured Image
SLURP IT SUCK IT I KNOW YOU ALL LIKE IT
Welcome to the PaRappa The Rapper Wiki!
This wikia is about the PaRappa The Rapper series!

PaRappa The Rapper, released on the PS1, was the first rhythm game to succeed in establishing the genre and many rhythm games that followed took inspiration from it. Not only that, but its characters, unique (paper thin) art style and songs have become iconic and well-known around video-game media.